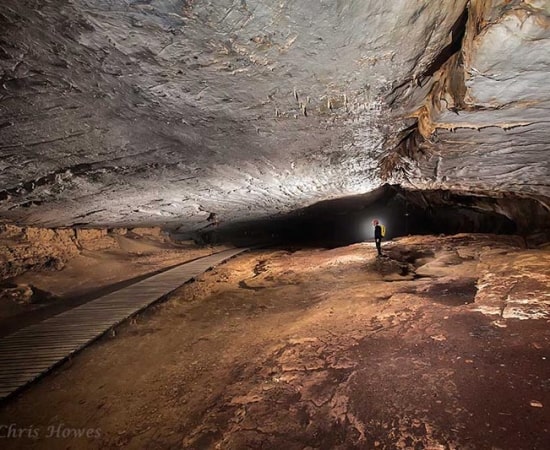 *per person includes guide and boat fee.
DURATION: 2 and a half hours
START TIME: 14:00 DAILY
A short boat ride up the Melinau, a 10-20 minute walk through the rainforest and a climb up the steps to the cave entrance brings you to the start of a 1,5km underground adventure.
The tour size is limited to 6 people.
The tour begins by torch light encouraging you to 'discover' for yourself. Cave fauna is easily seen at the beginning of this trip: twinkling spider eyes stare back at you, blue Racer snakes sit waiting to catch a bat flying by, white crabs feed blindly in the shallow pools of water and the long antennae of cave crickets pick up your movements as you pass by.
As the cave becomes larger some of the best formations in Mulu are presented to you via stunning lighting. The wide plank walk path allows you to look around you and thoroughly enjoy this amazing experience.
This cave is highly regarded by scientists as it contains huge volumes of pre-historic sediments, including a volcanic ash layer.
Cancellation policy – once you have left the Park Office there will be no refund for the tour not going all the way due to fitness level, water levels, sickness or any other reason. A 50% cancellation fee applies to any tour cancelled by you within 24 hours of the schedule departure time.
Bring your own torchlight. The cave is a combination of show cave and wild, unlit cave