THE PARK EMPLOYS 10 QUALIFIED AND EXPERIENCED PARK GUIDES THAT CAN BE BOOKED DIRECTLY AT THE PARK HQ.
(THEY ARE EASILY IDENTIFIED BY THE BORSARMULU PARK MANAGEMENT SDN BHD LOGO ON THEIR KHAKI/grey UNIFORM)

Prospective visitors that are physically challenged in any way, must please enquire via email pertaining the activities at Mulu National Park before finalizing their plans/bookings.
If you want to do a video filming or operate a drone, you need to apply for a special permit from Department of Forestry at below number and address, regardless for commercial or private use: CONTROLLER OF NATIONAL PARK & NATURE RESERVE, SARAWAK FORESTRY CORPORATION, LOT 218, KCLD JALAN TAPANG, KOTA SENTOSA, 93250, KUCHING, SARAWAK, TEL: 082-628001/610088, FAX: 082-629536
This remote wilderness area can realistically only be reached by flight. Maswings, a subsidiary of Malaysian Airlines, offers daily flights to Mulu from Miri, Kuching and Kota Kinabalu.
Kuala Lumpur is the main entry hub into Malaysia. From there you fly to the island of Borneo to one of the above mentioned ports.
Duration of Maswings flights to Mulu from –
Miri (30 minutes)
Kuching (1 hour 20 minutes)
Kota Kinabalu (55 minutes)
Please allow for a flexible itinerary and flights to and especially from Mulu.
Heavy rainfall may occasionally result in flight cancellations.
Allow sufficient time to catch connecting flights and pre-booked activities.
Daily flights from Miri (30 minutes), Kuching (1 hour 20 minutes) & Kota Kinabalu (55 minutes). Subject to changes.

All tourists entering the National Park must purchase a 5 day Pass. This provides unlimited entry for the period. Tickets are non-transferable.
MULU WORLD HERITAGE 5 DAYS PASS
| | |
| --- | --- |
| Foreign Adult | RM 30 |
| Foreign Child | RM 10 (6 – 18 years) 5 and below no charge |
| Malaysian Adult | RM 15 |
| Malaysian Senior | RM 7 (60 years and above) |
| Malaysian Child | RM 5 (6 – 18 years) 5 and below no charge |
Visiting or staying in the park for less than 5 days does not alter this fee.
If your stay in Mulu World Heritage Area will be longer than 5 calendar days you are required to buy a second Park Entry ticket.
Please note these fees are for park entry only, additional fee for Tours & Activities still apply.
Malaysian citizens must present their Identity Card as proof of citizenship.
COVID-19 REGULATIONS, POLICY & SOP
Please note that these regulations are mandatory (These regulations are subjected to change as new info becomes available).
General SOP's:
Booking will be essential to secure an entry into the Park. The Park is allowed 250 pax in the HQ surrounds, which includes 38 pax at Camp 5 and 6 pax on the Summit Trails.
Social Distancing Policies impact the following:
Group sizes of tours will decrease, impinging on availability of certain tours – please book in advance.
Boat capacity will decrease – (max 5 to 6 pax per boat only).
Registration will be at the open-air reception to speed matters up. please note that 2/3 counters inside will only be able to service 6/9 visitors at a time. social distancing, SOP's and limitation will impact on check-in times at the HQ. We beg your understanding and patience regarding this issue.
Health measures:
Low risk, no symptom status
Children below 5 years old who are not vaccinated MUST be with their parents/guardian
If you currently suffer from related symptoms, PLEASE cancel or postpone your trip.
If you had a Covid-19 screening result, you are welcome to add it to your booking.
Visitors must arrive with their personal protection equipment eg mask, glove, sanitizer AND personal medicine
Avoiding 3C (crowded, confined & closed) and practicing 3W (wash, wear & warn).
Visitors must consent to provide personal detail for visitor contact tracing.
Face mask-wearing:
•Outdoor: Encouraged to wear, especially in crowded areas
•Indoor: MUST wear face mask
Visitors of 70 years and over with cardio respiratory conditions will be considered not fit to visit Mulu National Park, due to lack of medical facilities in the immediate surroundings. The risk is simply too great for the visitor!
We reserve the right to change or modify of the Regulations, Policy and SOP's at any time with guidance or new instructions from the Ministry, new information on the pandemic and/or issues relating to personal safety or risk.
Mulu can be visited all year round. Of course, being in a tropical rainforest please expect frequent cooling rains which brings the magic of the Rainforest to life.
Each Mulu morning usually dawns with a clear sky and a temperature around 23 degrees.
By early afternoon the temperature has risen to about 34 degrees and 60% humidity; around 13:00 – 17:00 it will start raining and the humidity increases to 90%. Showers may last 30 – 60 minutes, but after the rain the air is cool and fresh, the evenings are usually fine.
Please allow for a flexible  itinerary and flights,to and especially from Mulu.
The Mulu weather is completely unpredictable and has a major influence over flights into and out of Mulu.
Allow sufficient time  to make deadlines for important connecting flights or pre-booked activities, that are non-refundable or coupled to expiry dates.
Bookings are essential
June, July, August, September and holiday periods are usually busier than other times of the year. We recommend that at all times you should make bookings for accommodation and guides in advance to avoid disappointment. Once the facilities are full and the guides booked then there is nothing we can do to help even though you have traveled a long way to visit.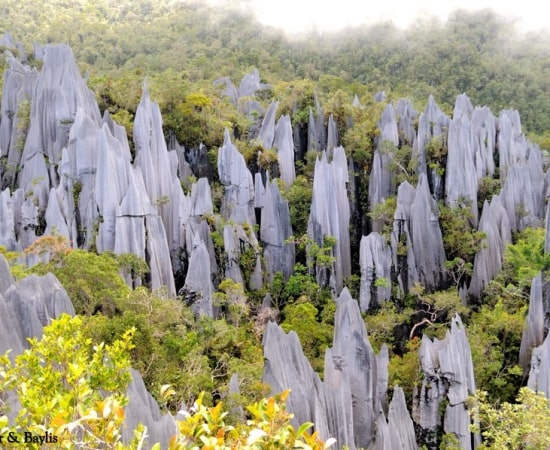 Mulu is remote and isolated. Although we wouldn't want it any other way, it does surprise some visitors that they just can't pop down the shop and pick up something they forgot to bring along for their trek.
That means: NO banks, NO chemist, NO shopping centres!
Things you must consider to pack:
Non-slip closed footwear
Raincoat
Torchlight
Water bottle
Insect repellent
Hat/ Sweatband
Cash (RM) – NO ATM's
Personal 1st aid kit/medicine
Face mask – NO MASK, NO TOUR!
Hand sanitizer
Hand glove – for adventure caving or extreme tours
Digi/Tone wow sim card for 4G signal
*Essential items *Personal PPE
Light clothing for tropical weather, a very light shawl or jacket for the evenings. If you do overnight treks you will need enough changes of very light clothing because of excessive sweating. Your clothes might also not get dry overnight. Only at Mulu summit will you need a warmer jacket and sleeping bag. Bedding for Camp 5 can be obtained from HQ for a refundable deposit. Mosquito nets can be rented at HQ.
Very sturdy trekking boots work well for Mulu Summit, but not so on the plank walks. For climbing the Pinnacles your best option will be rubber shoes (for sale in Mulu Gallery) or a softer non-slip shoe. (See essential list with Extreme Adventures)
FREQUENTLY ASKED QUESTIONS
You may find some answer from our Trip Advisor review.
Tripadvisor Traveler Rating
Tripadvisor Ranking
#1 of 9 Specialty lodging in Gunung Mulu National Park
Recent Traveler Reviews

"Garden Bungalow amazing..."

"4 nights in Mulu - December 2022"

"Ahhhh the serenity - a perfect place..."

"Great lodge in a great location"

"Great national park stay and visit..."