Sarawak Chamber Overnight At Camp 1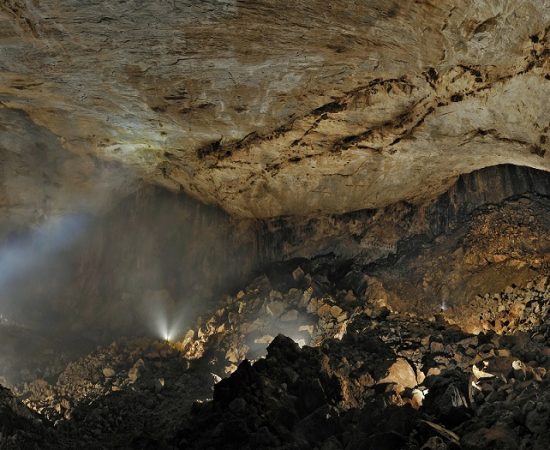 Minimum age is 16 years old.
Sarawak Chamber will require you to stay 1 night at Camp 1 (compulsory) and is a particularly challenging tour even for visitors that have good fitness and are experienced cavers.
The trail takes approximately three hours before reaching the mouth of Gua Nasib Bagus (Good Luck Cave).  Before entering the cave, the guide must assess the water levels at the cave mouth as high water levels make it unsafe.  If the water levels are too high, the tour will be cancelled and the group returns to park headquarters.
If the water level is low enough the tour proceeds for approximately 900 metres along a river channel with sheer rock faces rising to about 50 metres on either side.  Towards the end of the river there is a traverse, using fixed ropes, of approximately 200 metres.  Following the traverse the tour then proceeds up a steep boulder slope to the chamber itself (takes roughly about 120 minutes to complete).  The chamber is pitched at a steep angle and the floor is covered in boulders.  The tour stops at the mouth of the chamber.
*Ability to swim is essential. *Bring your own headlight.
See link below for Camp 1 requirement:
OVERNIGHT AT CAMP 1
Please read before booking:
Advanced adventure caving is strictly for visitors who:-
Can demonstrate current membership of an internationally recognized speleological society or caving group, or
Can provide details of* previous caving experience or
Minimum previous experience for this cave is described as an expedition of at least 3 hours duration in a wild cave which has no lighting or pathways.* Verifiable written evidence on each participant's previous caving experience must be provided to the Park Manager for approval 
Cancellation policy – once you have left the Park Office there will be no refund for the tour not going all the way due to fitness level, water levels, sickness or any other reason. A 50% cancellation fee applies to any tour cancelled by you within 24 hours of the schedule departure time