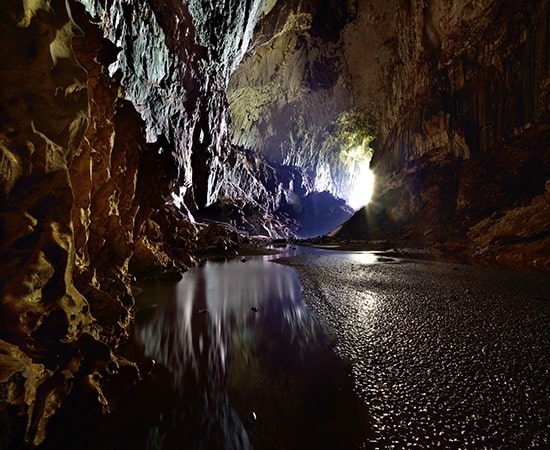 *per person includes guide fee.
DURATION: 3 hours + bat exodus
START TIMES: 14:00/ 14:30 at Park HQ -DAILY TOURS
TOTAL DISTANCE: 9km
WHAT TO BRING: Raincoat/poncho, sturdy non-slip shoes, torchlight, insect repellent, cash (RM – drinks and snacks for sale @the Bat Observatory)
A 3km almost flat walk on raised plank walks takes you to the Bat observatory (45 minutes to 1 hour).
Walk another 500m to reach one of the world's largest cave passages, home to more than 3 million Wrinkle Lipped bats. A large number of swiftlets also roost in Deer Cave where the high cave ceilings (more than 100m in some places) provide a safe haven against predators.
Enjoy the sheer size of this limestone passage, an ancient riverbed, and see the force of water carving the scalloped walls.
Once you reach the green oasis of Garden of Eden you have walked 800m inside Deer Cave. Enjoy the unique shower head formations of Adam and Eve's showers spouting columns of water 30m to the riverbed below.
Returning almost the same way, but with views from different angles, you will visit Lang Cave with wonderful limestone shawls, stalagmites and stalactites. Bats are easier to see in this smaller cave and you will be very close to the shimmering webs of thread worm larvae, another miniscule wonder of Mulu caves.
The tour is timed to coincide with the bat exodus which could start any time from after 17:00.
To walk to Deer cave to witness the Bat exodus is a FREE excursion, BUT you cannot enter Deer or Lang cave without payment beforehand and a guide (as is the normal procedure). Expect to be back at HQ by 18:30 to 19:00, should the bats fly.
A small kiosk at the Bat Observatory sells drinks and snacks until 17:30. PLEASE BRING YOUR EMPTY TINS/PACKAGING BACK WITH YOU TO HQ as per World Heritage prescription.
Toilets and designated smoking area available.
Cancellation policy – once you have left the Park Office there will be no refund for the tour not going all the way due to fitness level, water levels, sickness or any other reason. A 50% cancellation fee applies to any tour cancelled by you within 24 hours of the schedule departure time.