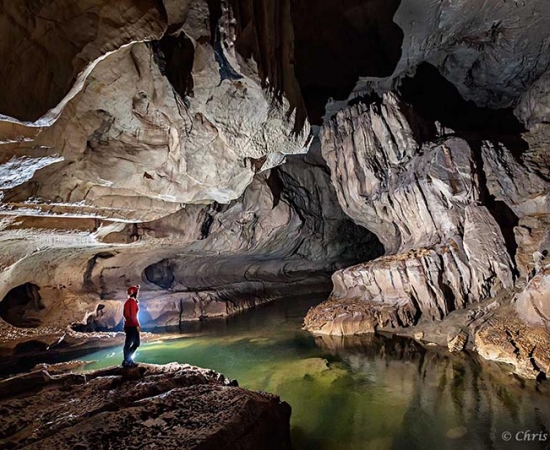 Minimum age is 16 years old.
Clearwater Connection is a 4.8km long trip and takes 6 to 8 hours to complete. Beginning in the show cave section of the Cave of the Winds adventurers leave the tame pathways behind and venture into the 'wild' chambers over rugged terrain strewn with boulders that requires some climbing up then clambering down muddy slopes and swimming back and forth across the underground river.
Areas that are hazardous have fixed ropes and guides carry personal ropes to assist you in sections that require climbing. For many the 1.5km river section is the highlight as it is exceptionally beautiful and refreshing after the hard caving.
*Ability to swim is essential. *Bring your own headlight & lunch pack. 
Please read before proceed booking:
Advanced adventure caving is strictly for visitors who:-
Can demonstrate current membership of an internationally recognized speleological society or caving group, or
Can provide details of* previous caving experience or
Minimum previous experience for this cave is described as an expedition of at least 3 hours duration in a wild cave which has no lighting or pathways.* Verifiable written evidence on each participant's previous caving experience must be provided to the Park Manager for approval or
Visitors who do not have previous experience must participate in a tour of an Intermediate level cave to show the Guide their abilities and an advanced adventure caving trip may be organized for the next day.
Cancellation policy – once you have left the Park Office there will be no refund for the tour not going all the way due to fitness level, water levels, sickness or any other reason. A 50% cancellation fee applies to any tour cancelled by you within 24 hours of the schedule departure time.